"

Phenomenal!"
— Adam Lambert, Queen
"

You IS Elton!"
— Meghan Trainor
Welcome to The Rocket Man Show!
Hi everyone, Rus Anderson here. Welcome to The Rocket Man Show - my fantastic tribute to Elton John, currently featured in Elton's 'Farewell Yellow Brick Road' world tour & 'Clash Of The Cover Bands' on E!
 Scroll down for more!
I'm super excited to announce that I am Elton John's official body double for various 'Farewell Yellow Brick Road' world tour videos & photos!
I was picked by Elton to recreate highlights of his career in virtual reality and it was the most amazing experience of my whole life!
Together with Elton's team, we magically recreated his US debut Troubadour gig from 1970, his LA Dodgers Stadium concert from 1975 & even an astronaut floating through space! All the media can be found here on my website as well as on all of Elton John's official social media platforms. You can check out the amazing videos & much more on this exciting project by visiting my Farewell Tour page. 
What an honor & what a wild ride!
For tickets to the Farewell Yellow Brick Road Tour, visit EltonJohn.com
Meanwhile, onstage with my own live production - The Rocket Man Show... please browse the site by using the menu icon above. You can learn more, watch videos, see photos & check the dates page.
If you'd like to contact us directly for more information, or with any inquiries please feel free to do so here!    
To download our Show Promo Magazine in PDF, click here .  
Our Press Kit can be found here.  
Before you leave, don't forget to join me on facebook & instagram.  
For the official website of Sir Elton John click here.  
Cheers & here's to Elton!
- Rus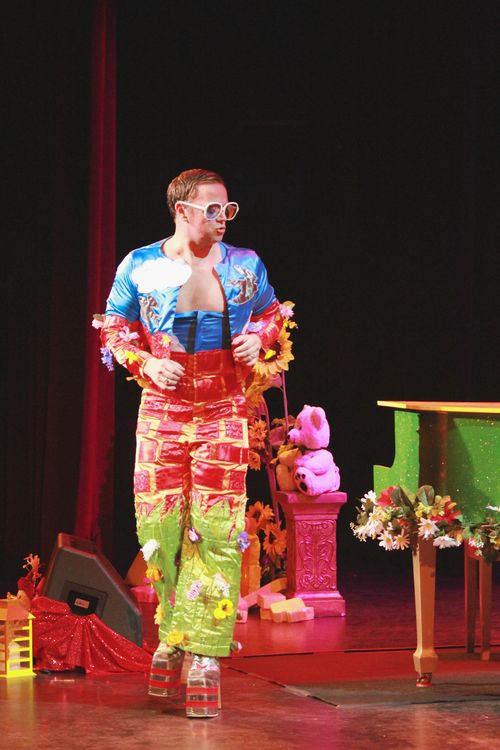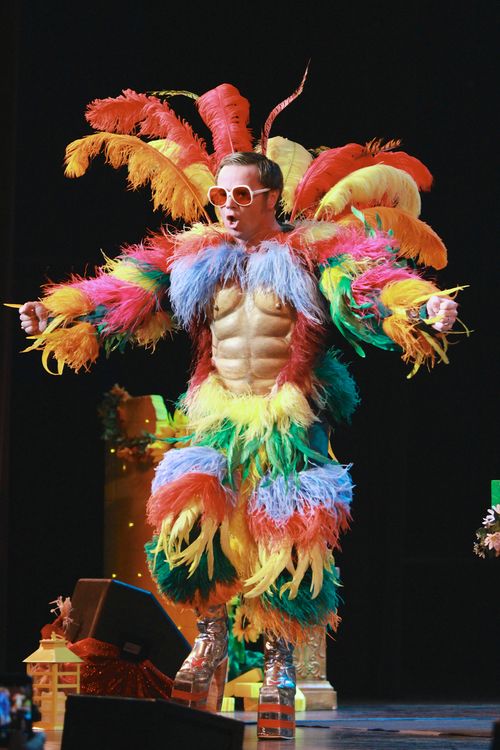 *New* See Rus in "Clash of the Cover Bands" on E!
Now Playing; Episode 10 - Platinum Icons
I'm excited to announce that I am currently featured in Jimmy Fallon's new reality show on E! - 'Clash of the Cover Bands'! The show is hosted by tWitch from 'The Ellen Degeneres Show' & features Queen front man Adam Lambert, Grammy winner Meghan Trainor & songwriter Ester Dean as judges. The competition pits 2 cover bands head-to-head for the chance to win $25,000 & a performance on The Tonight Show with Jimmy Fallon. The show is now underway - I battle Erika Moul as Lady Gaga on Episode 10: Platinum Icons. Click HERE to watch the episode on E! 
Click HERE to see the lineup of artists in the series & much more! Click HERE to read my great article in The Tampa Bay Times about the show!
Check out my performance of "Saturday Night's Alright" below!! 
Elton's Official Farewell Tour Promo Video in VR!
Rus' photoshoot with elton john for the farewell tour!
Read Rus' Dodger Stadium interview on EltonJohn.com
Behind The Scenes - Making Of 'Farewell Yellow Brick Road'
*NEW* Rus cast as 'hologram' Elton for augmented reality!
Meet Somali Rose - Artistic Director & Costumer